BRASS OF PEACE ON TOUR – PITTSBURGH & CLEVELAND
Friday, February 28, 2020 at 8:30: Concert at Duquesne University Saturday, February 29, 2020 at 10:30 am: Master Class with George Vosburg, Pittsburgh Symphony Orch. former Principal Trumpet, Carnegie Mellon University Brass Chair and faculty.
Saturday, 8 p.m. Brass of Peace attends a Cleveland Orchestra Concert Sunday, March 1, 2020 at 10:30: Master Class with Jesse McCormick and Rick Stout of the Cleveland Orchestra/Baldwin Wallace Conservatory.       Sunday, March 1 at 3 p.m.: Concert at Gambell Hall at Baldwin Wallace Conservatory
Sunday, December 8, 2019, 7 – 9 p.m.:  Distinguished Artist Master Class       — Robert Reardon, horn; NSO, Peabody Institute faculty                          December 13, 2019: Brass of Peace In-school Kidshare Concerts Sunday, December 15, 2019 at 3 p.m.:  Brass of Peace at Fashion Mall Sunday, December 15, 2019 at 6 p.m.: Brass of Peace at Tysons Galleria
June 2, 2019 Alumni Concert
Season Finale
Brass of Peace on Tour!
Saturday, March 30, 2019

2 p.m.

Free concert with the

Peabody Brass Ensemble

at 2 p.m. on Saturday, March 30 at Emmanuel Church, 811 Cathedral Street, Baltimore, MD 21201

PLUS –  Brass of Peace will also hear the great Philadelphia Orchestra perform Sibelius 2 at the Kimmel Center on Saturday night. Thanks to our wonderful alumna, Jennifer Montone, we got great seats at a great price! We are excited to hear her and one of our great American orchestras in their hall and conducted by their music director.

Sunday, March 31, 2019

4 p.m.
Music at the Monastery Concert Series
Sunday March 10th – Link #1 – Link #2
Factory Seconds Trio, members of the Cleveland Orchestra and Ensemble in Residence at Baldwin Wallace Conservatory, come to Peace Lutheran Church on Sunday, September 9, 2018, at 7 p.m. The concert is free to the public and a free will donation will be taken.
Viderunt Omnes Leonin (1150s-1201)*
"Hear ye Christians"  Hans Sachs (1494-1576)*
Veni Sanctus Spiritus John Dunstable (c. 1390-1453)*
Mass of Tournai Anonymous (c. 12th- c. 13th century)*
Chansons from 1554 Jacques Arcadelt (c. 1507-1568)*
Madrigaletti (2015) David Loeb (b. 1939)
Fugues from Ludus Tonalis (1942) Paul Hindemith (1895-1963) arr. Michael Galloway

 
Dona Nobis Pacem Giovanni Palestrina (1525-1594)*
2017-2018 Season Kennedy Center Performance
May 2018
Brass of Peace had another great season full of debut concerts! Our Carnegie Hall debut on February 12th and the entire musical weekend was one for the history books!  Thanks to support from the BOP alumni and alumni parents, all of the expense were absorbed by our fundraising through Fractured Atlas. Thank you all for your help! We are so grateful to Baldwin Wallace Conservatory for inviting us to join them on that hallowed stage.
On Saturday, February 10th, , BOP took the Tripper bus up to New York and stayed at the Salisbury Hotel, a wonderful little hotel only one block away from Carnegie Hall. On our first afternoon, we all trekked up to Juilliard where we met up with some excellent brass players from the Juilliard School and read through some great brass ensemble music for 2 hours! Thank you, BOP alumnus Nathaniel Silberschlag for arranging that gathering. It meant so much to all of us and especially our 2 graduates; Gaby Pho, horn and Andrew Stump, horn, who will be attending Julliard in the fall!
That evening, we split up to attend concerts by the Chicago Symphony and the New York Philharmonic.
The next day, Sunday, February 11th, we were part of a mentoring session in Westfield, New Jersey for high school bands and sponsored by Baldwin Wallace Conservatory. These bands would be playing the next day at Carnegie Hall and would also be adjudicated as part of the Baldwin Wallace Conservatory Invitational. I was one of the judges in the morning and had the pleasure of meeting composer, Frank Ticheli, who was also adjudicating. While in Westfield, Brass of Peace had the honor of having their own master class with members of the Cleveland Orchestra who form the Factory Seconds Trio; Jack Sutte, trumpet, Jessie McCormick, horn; and Richard Stout, trombone.  They were a wonderful example of beauty of tone and great ensemble amongst players!   We also had our one full rehearsal with the Baldwin Wallace Conservatory for the Carnegie Hall Concert the next night.
That evening, the horn section had a master class with the legendary Julie Landsman! The trumpets and trombones were on their own to explore New York City ( they managed to stay out of trouble!)
Our concert on February 12th at Carnegie Hall with the Baldwin Wallace Conservatory was amazing in everyday. Brendan Caldwell chose a fabulous and diverse program for the Wind Ensemble.  BOP was included in Kevin Putz Millennium Canons and Wagner's Elsa's Procession. Let me tell you, we worked really hard at home to be prepared enough to insert ourselves into the mix on one rehearsal, but our BOP players were great!  Our three solo pieces on that program, the Bach Fantasie in C, The Girl with the Flaxen Hair, and Rassemblement from Dubois Fanfares were out of this world! I couldn't have been more proud!
Our 41st Season Finale on May 10 was rewarding in every way. It is so inspiring for me each season to observe how BOP members grow so much artistically and develop their musical skills. And they are all such great kids! I'm so lucky to work with amazing young people year after year! Of course, it is also a bittersweet time as I say goodbye to our graduating seniors, some of whom have been with me for years! It's hard for me to believe that I have been conducting Brass of Peace for 29 years!  Time flies when you are having fun!
So, we now wrap up our season with another debut and some upcoming children's concerts in the Kennedy Center Theater Lab on May 19th. Come and join us with your kids if you are in town! We have 2 shows 10:30 and 1 p.m.  Our players will be acting and narrating as part of the story!  It will be a scream!  http://www.kennedy-center.org/Seating/SYOS/62574
Our Outdoor Brass of Peace and Alumni Concert will be held on the usual second Sunday of June at 7 p.m. at Peace Lutheran. Rehearsals are Friday and Saturday June 8 and 9.
Feb 2018 –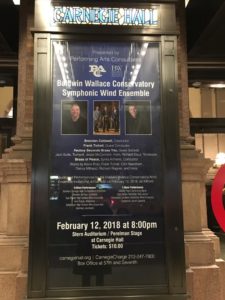 Brass of Peace performed at New York's famed Carnegie Hall on Monday, February 12, 2018 at 8 p.m. thanks to an invitation from Baldwin Wallace Conservatory Wind Ensemble. The program featured a world premiere Concerto for Brass Trio by Clint Needham and featuring Baldwin Wallace's brass trio in residence, The Factory Seconds. Brass of Peace performed several works on its own; Bach: Fantasie, Debussy: Girl With the Flaxen Hair and a fanfare by Pierre Max DuBois. Joint works with the Baldwin Wallace Conservatory Wind Ensemble included the colorful Millennium Canons (2001) by Kevin Puts and Wagner's poignant, Elsa's Procession from Lohengrin.
Many other amazing things happened in NYC!
A master class with the legendary Julie Landsman in NY
A brass ensemble with students of the Juilliard School
A master class with members of the Cleveland Orchestra who form the brass trio Factory Seconds.  Jesse McCormick, horn; Jack Sutte, trumpet; Richard Stout, trombone
Carnegie Hall Program
| | |
| --- | --- |
| Kevin Puts: | Millennium Canons (arr. Mark Spede)  BWC and Brass of Peace |
| Frank Ticheli: | Blue Shades |
| Clint Needham: | Concerto for Brass Trio and Wind Ensemble (world premiere) featuring the Factory Seconds Jack Sutte, trumpet; Jesse McCormick, horn; Richard Stout, trombone ( members of the Cleveland Orchestra) |
| Milhaud | Suite Francaise |
| Wagner: | Elsa's Procession to the Cathedral from Lohengrin (transc. Paillet) BWC and BOP |
| Bach (arr. Dishinger): | Fantasie in C  Brass of Peace only |
| Debussy (arr. Allen): | Girl With the Flaxen Hair Brass of Peace only |
| Pierre Max Dubois | Rassemblement from Trois Préludes en Fanfare  Brass of Peace only |
---
Saturday., May 19, 11 a.m & 1 p.m.
Sun., Jan. 14, 7-9

rehearsals recommence

Sat., Feb.10 through Tues., Feb. 13

New York Carnegie Hall Concerts and mentoring workshops
Brass of Peace performs at Carnegie Hall, New York City
with Baldwin Wallace Conservatory

Sun., Mar. 11 at 4 p.m.

Concert: Brass of Peace at the Franciscan Monastery

Saturday., May 19

11 a.m & 1 p.m.

Concerts; Brass of Peace performs 2 concerts on the John F. Kennedy Center Theater Lab stage

Concerts; Brass of Peace performs 2 concerts on the
John F. Kennedy Center Theater Lab stage
___________________________
Brass of Peace 40th Anniversary Gala



More Pics 
___________________________